S'mores and a fire - great way to start the trip. Here camping in Bowman Lake State Park in NY
Ollie would find me flowers so I started taking their photos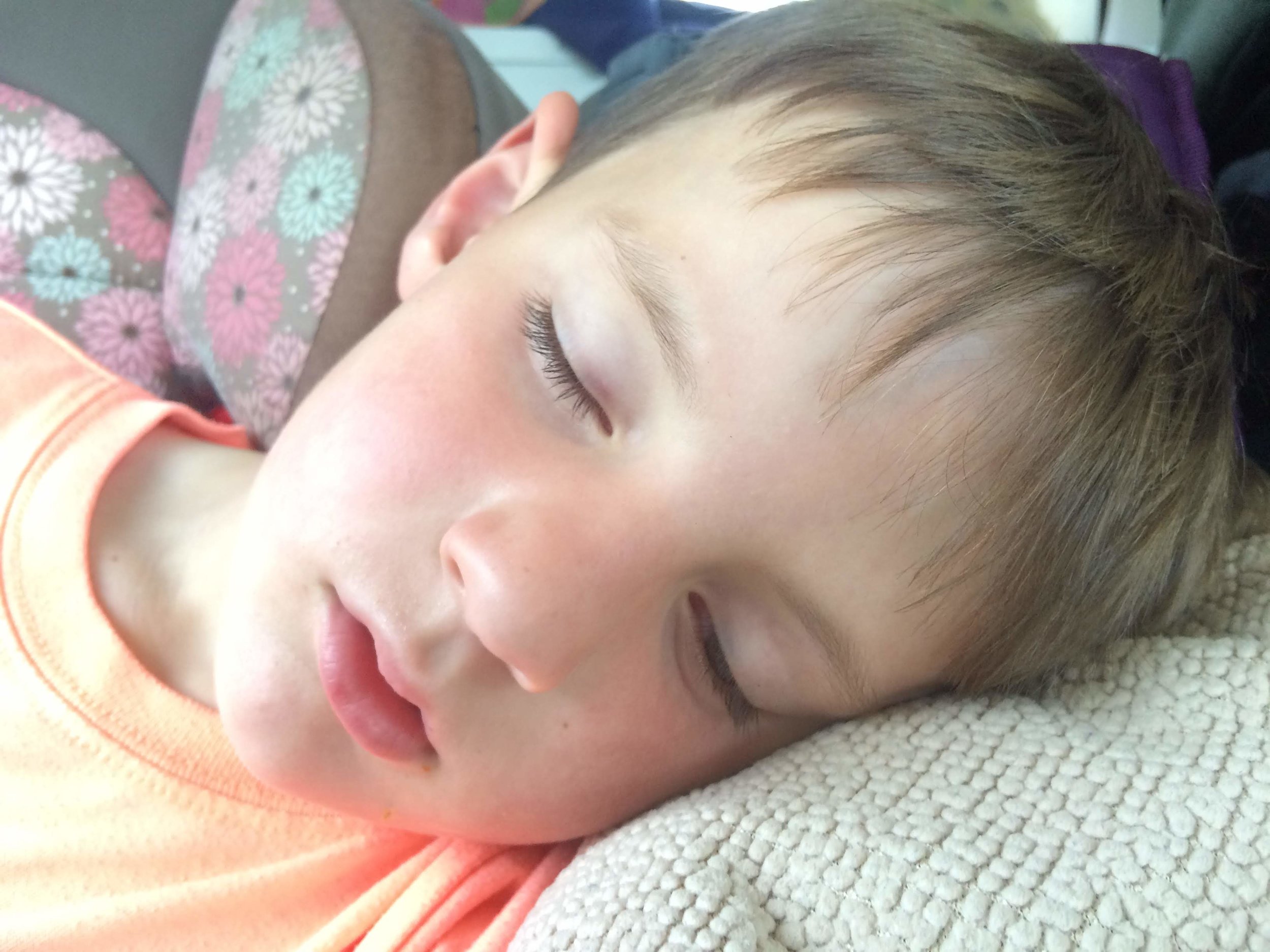 Asleep already?!? C'mom kid - keep up!!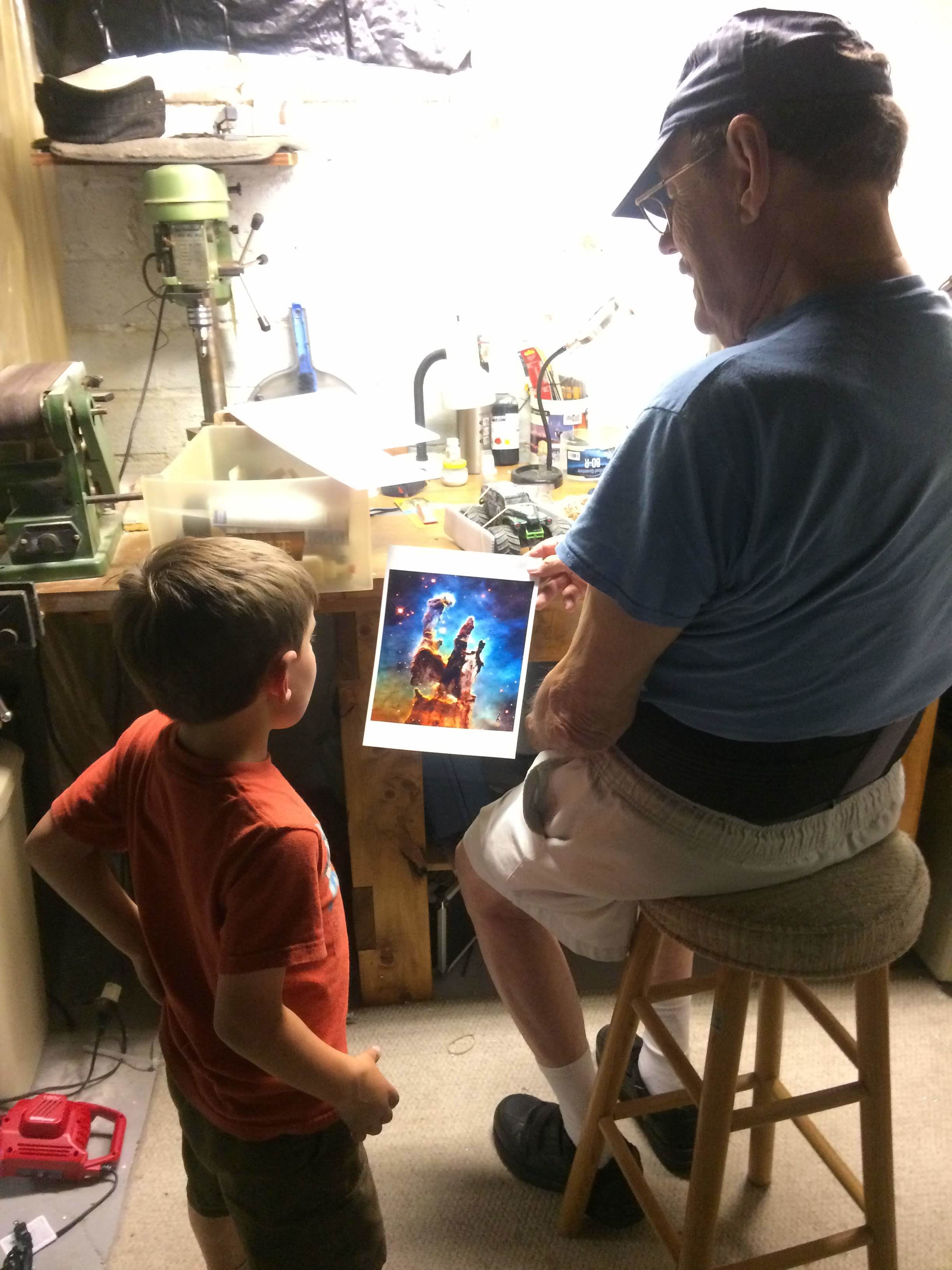 Visit with his dziadziu (Polish for Grandpa) where he give Ollie a photo of something from space. (Ollie now reminded me it is star birth we are looking at)
Now in Valparaiso, Indiana where this breakfast place had a cinnamon bun as big as his head! Can I PLEASE have some?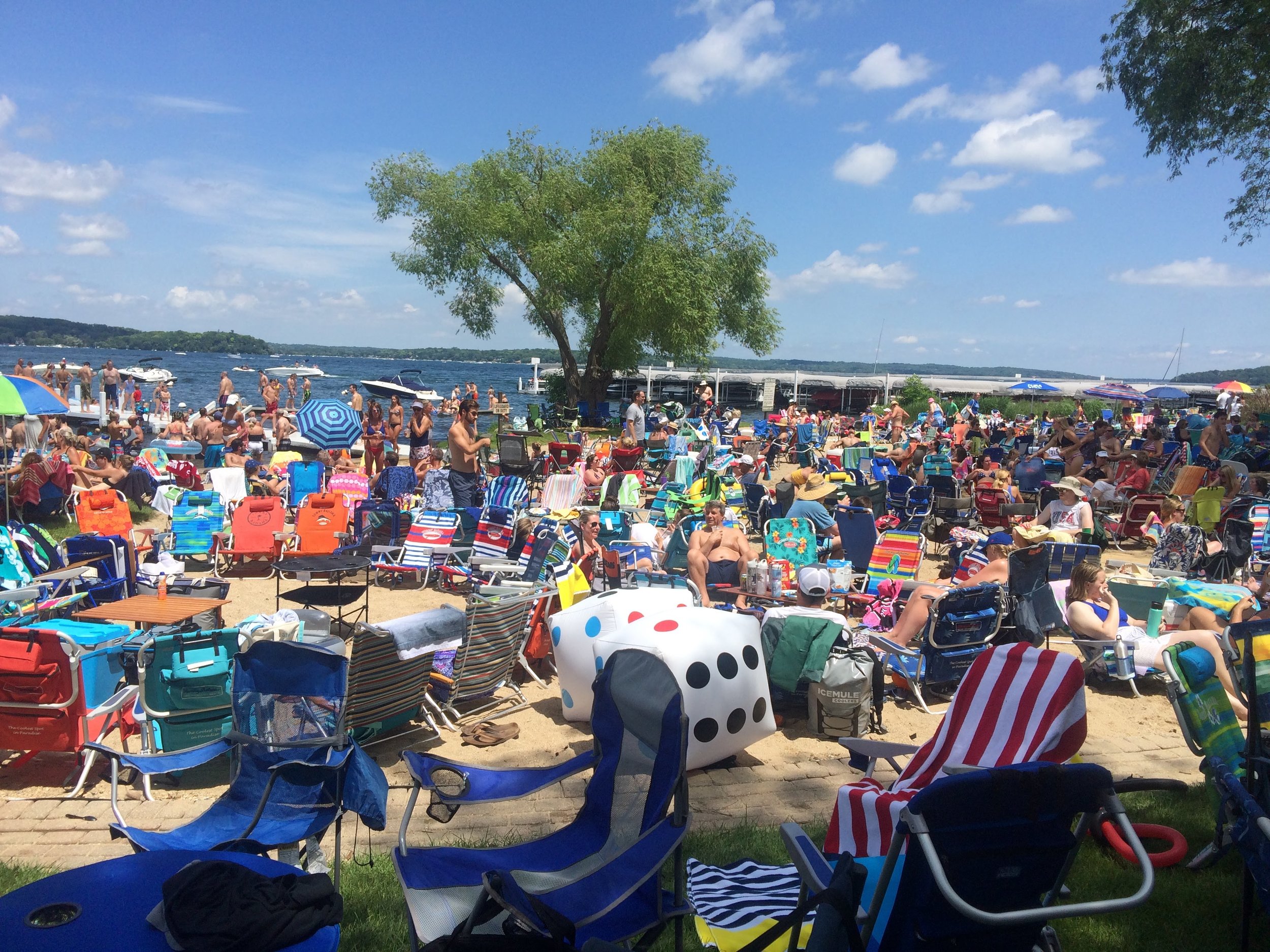 Off to Lake Geneva in Wisconsin where their July 4th celebration was quite a big event
Boat ride on the lake got the best family portrait
Ollie getting the hang of monkey bars - just hope his pants stay put!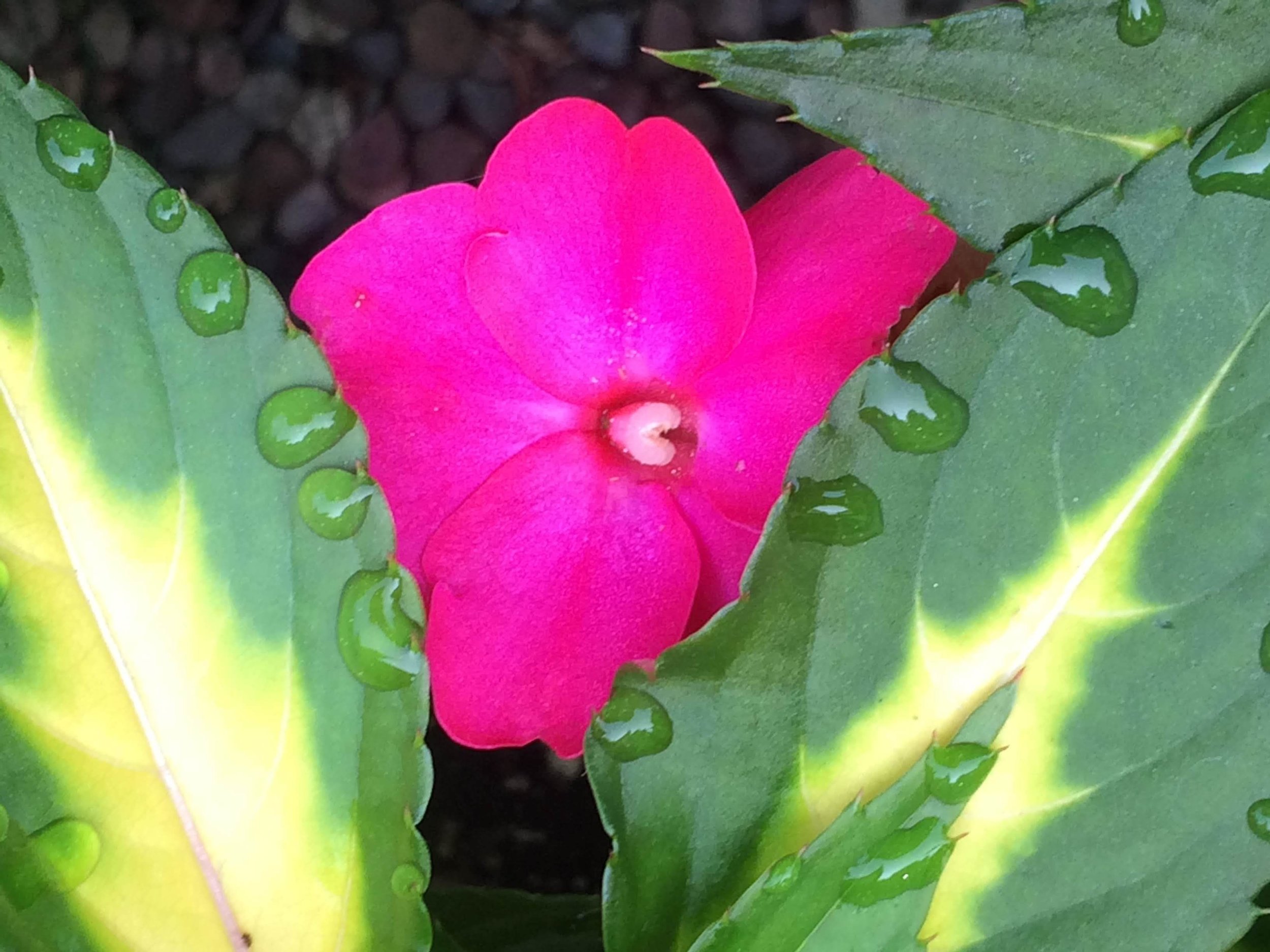 Dropped Don at the airport this morning and off to Algonquin, Illinois. Here we say good bye to a friends house which they sold. They have some amazing gardens!
Next day, off to a butterfly pavilion. Ollie has been using his new camera quite a bit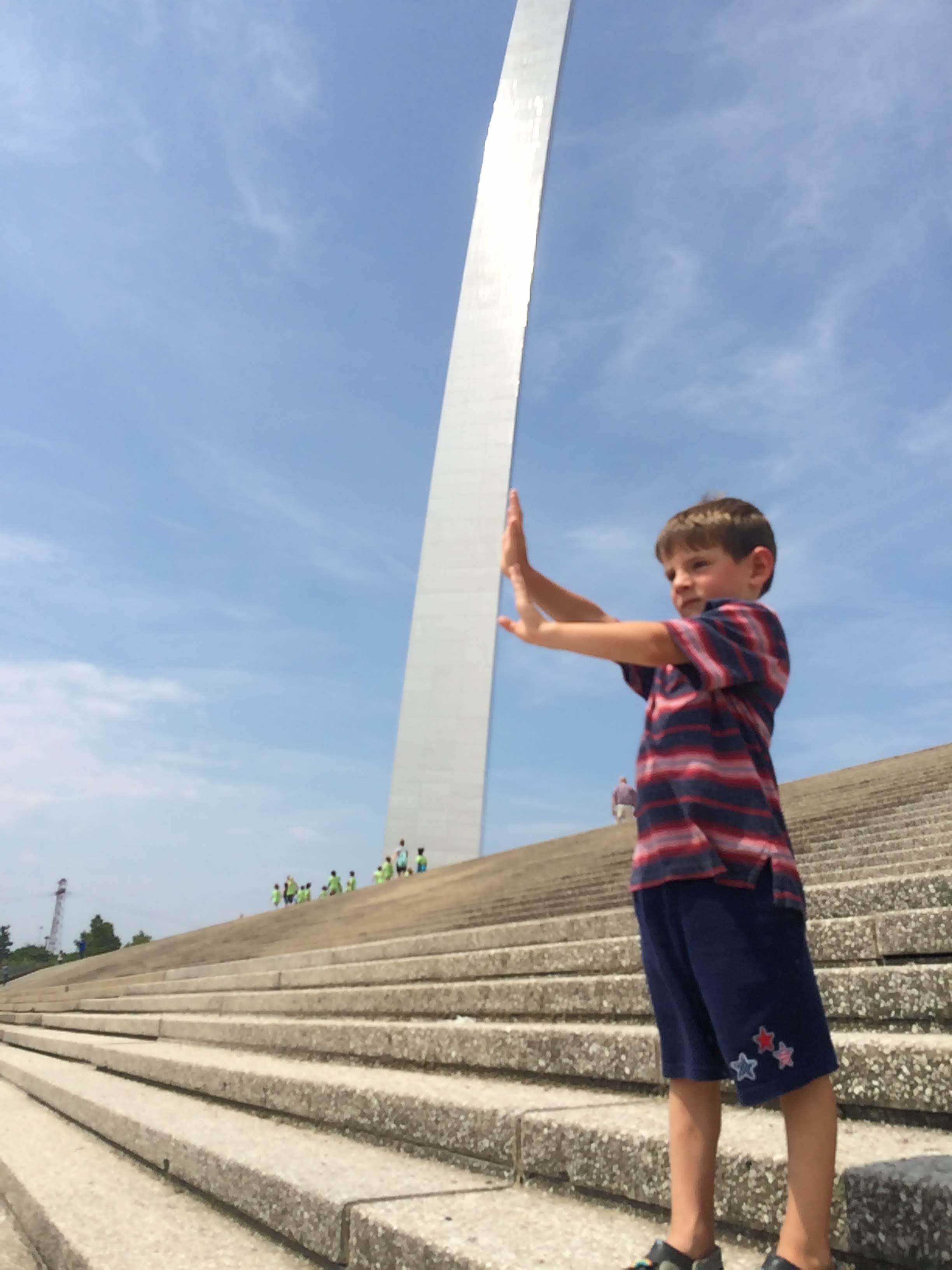 St. Louis Arch! Ollie got a kick out of this trick photo.
Then we start on Rt 66, which we were only on until Oklahoma, not the best part of it but it had some fun signs. Three states here; Missouri, Kansas and Oklahoma.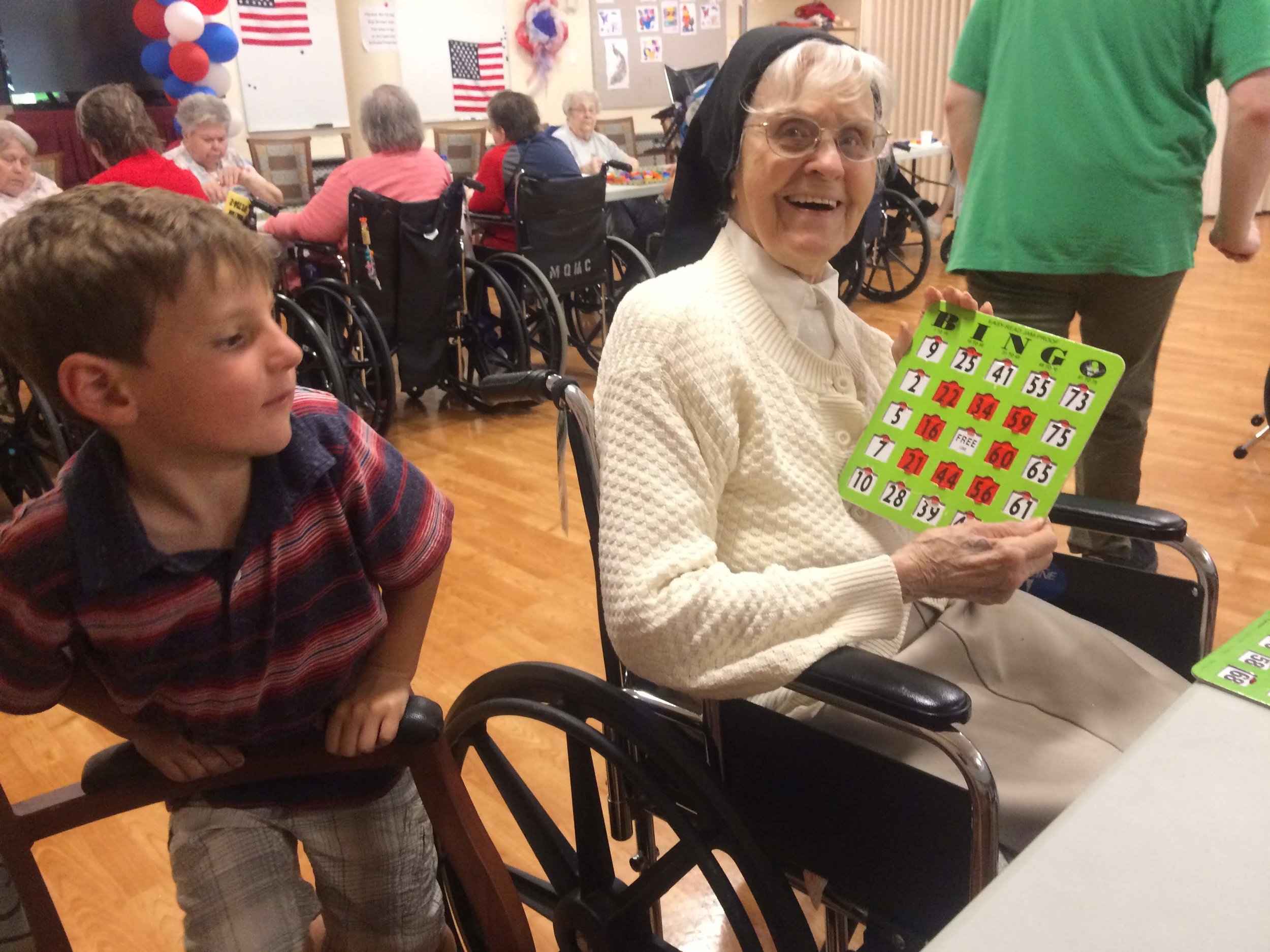 We visited Ollie's great great aunt Sister Xavier who is 102! We played, and WON bingo. Cash prize of $2.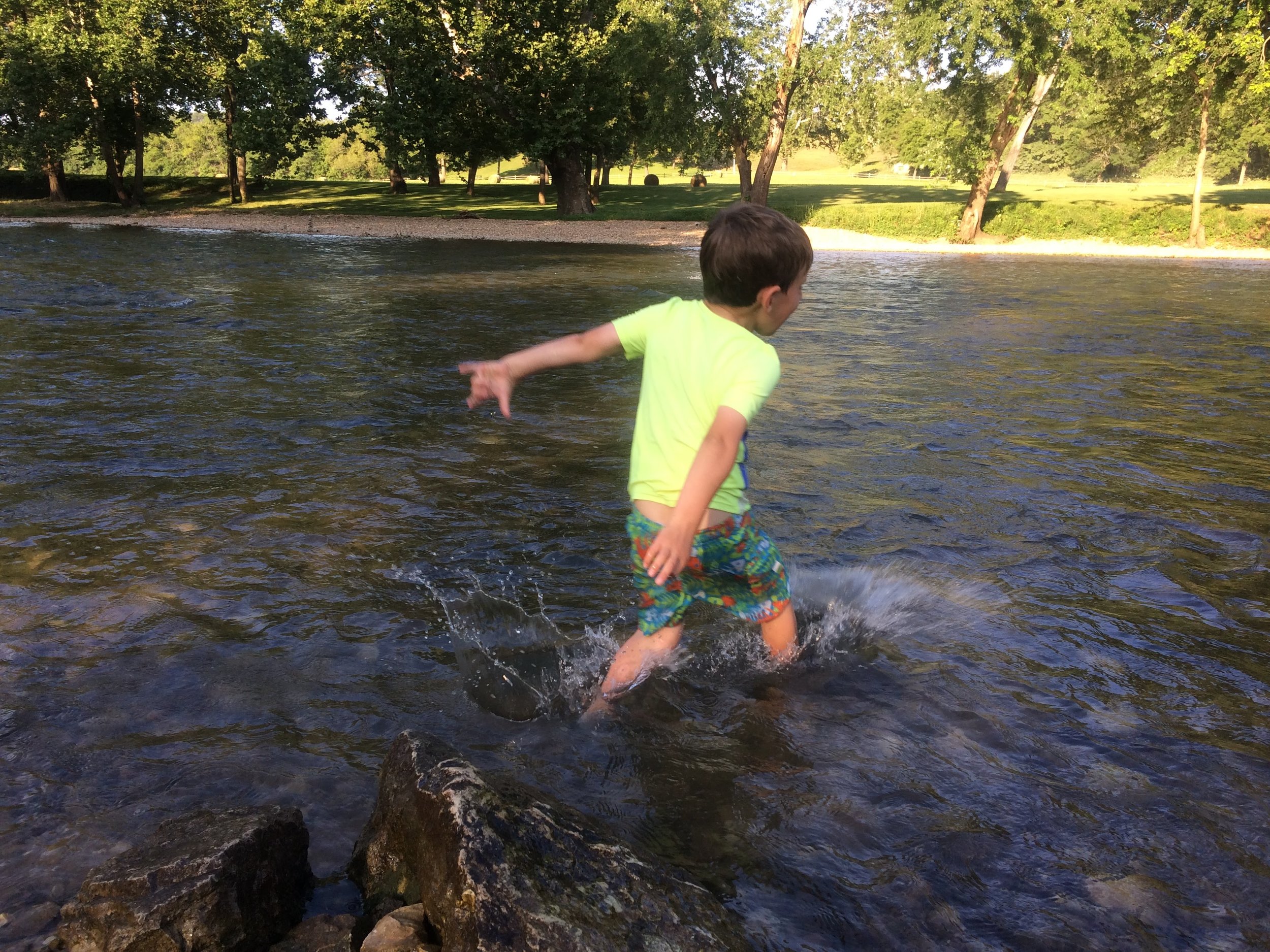 hot hot HOT! Now in a Missouri campsite with big plans of hitting the river. Lots of salads for dinner as a hot meal cooking over a hot fire in 95 degrees did not seem like fun to me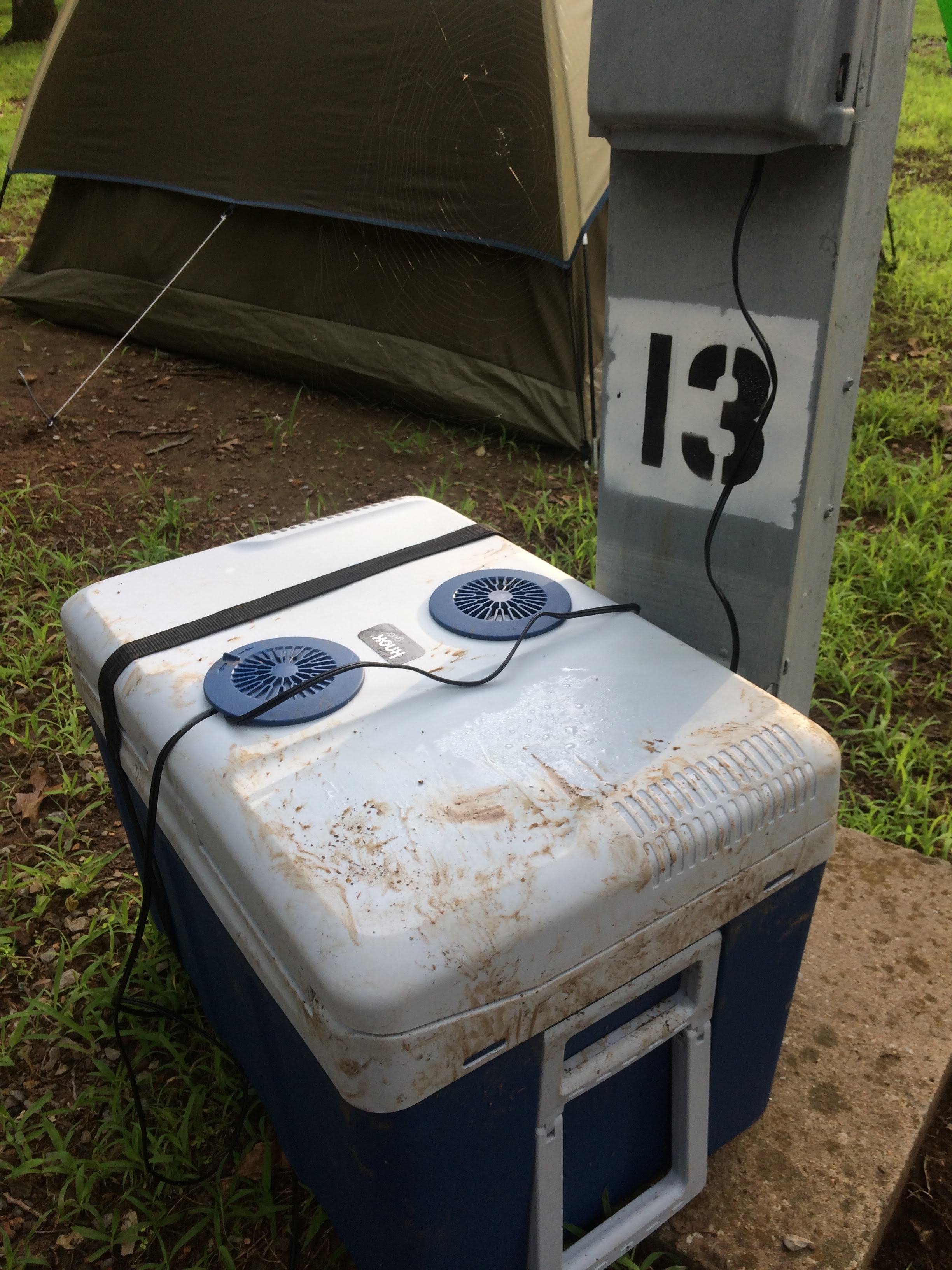 Some wild creatures spent a good part of the night trying to get into our portable refrigerator (which I highly recommend - not having to get ice very other day was great)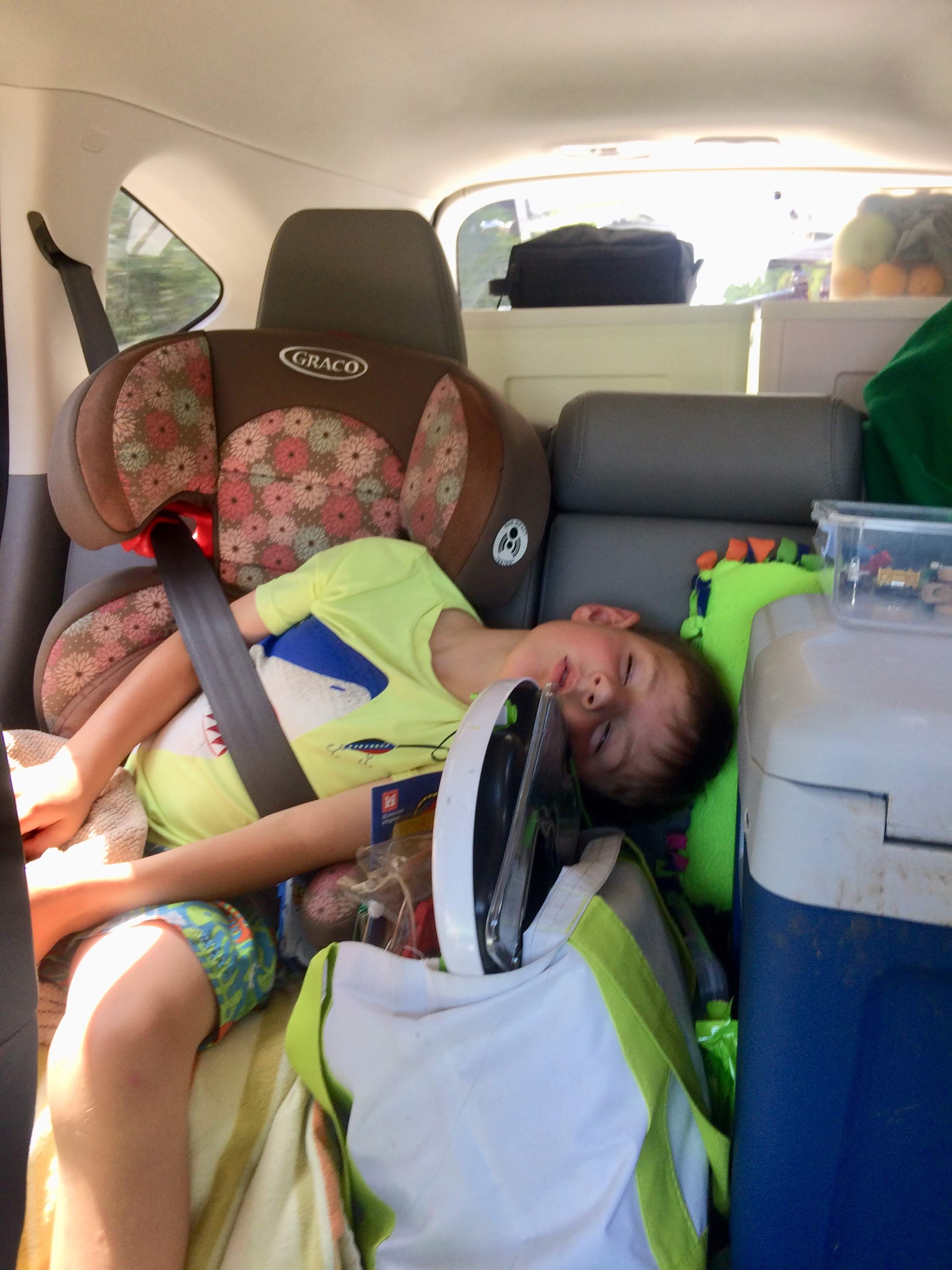 Camping last night in northern Oklahoma, just outside of Broken Bow heading to the southern part of OK. That's comfortable - really?!?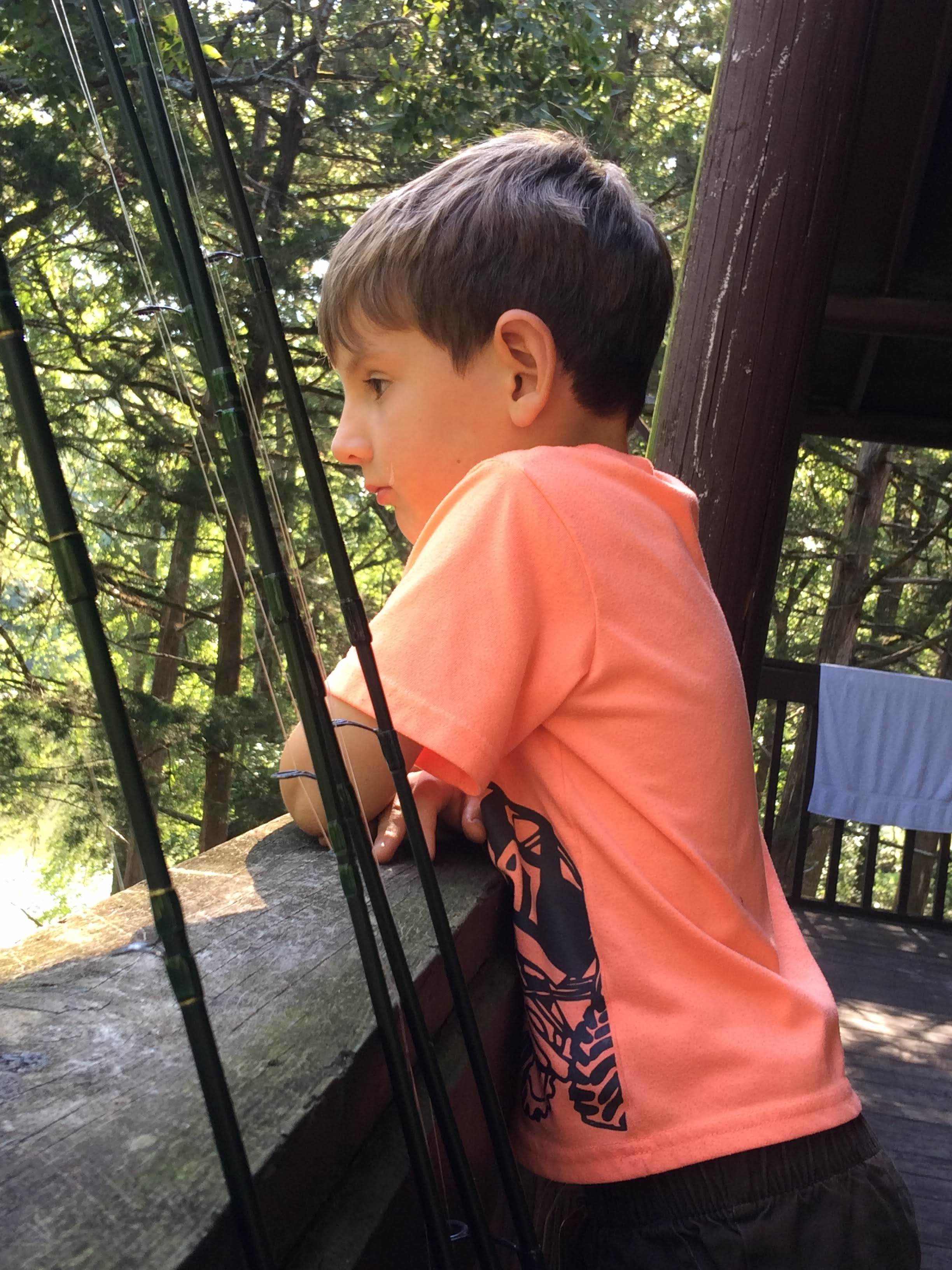 Now in Broken Bow Oklahoma, with lots of fishing on the agenda. SO - Broken Arrow last night to Broken Bow tonight. I think OK has a bit of an archery problem.
Some amazing trails for horses just outside of Beaver Bend State Park in OK. Also big area for spotting Big Foot!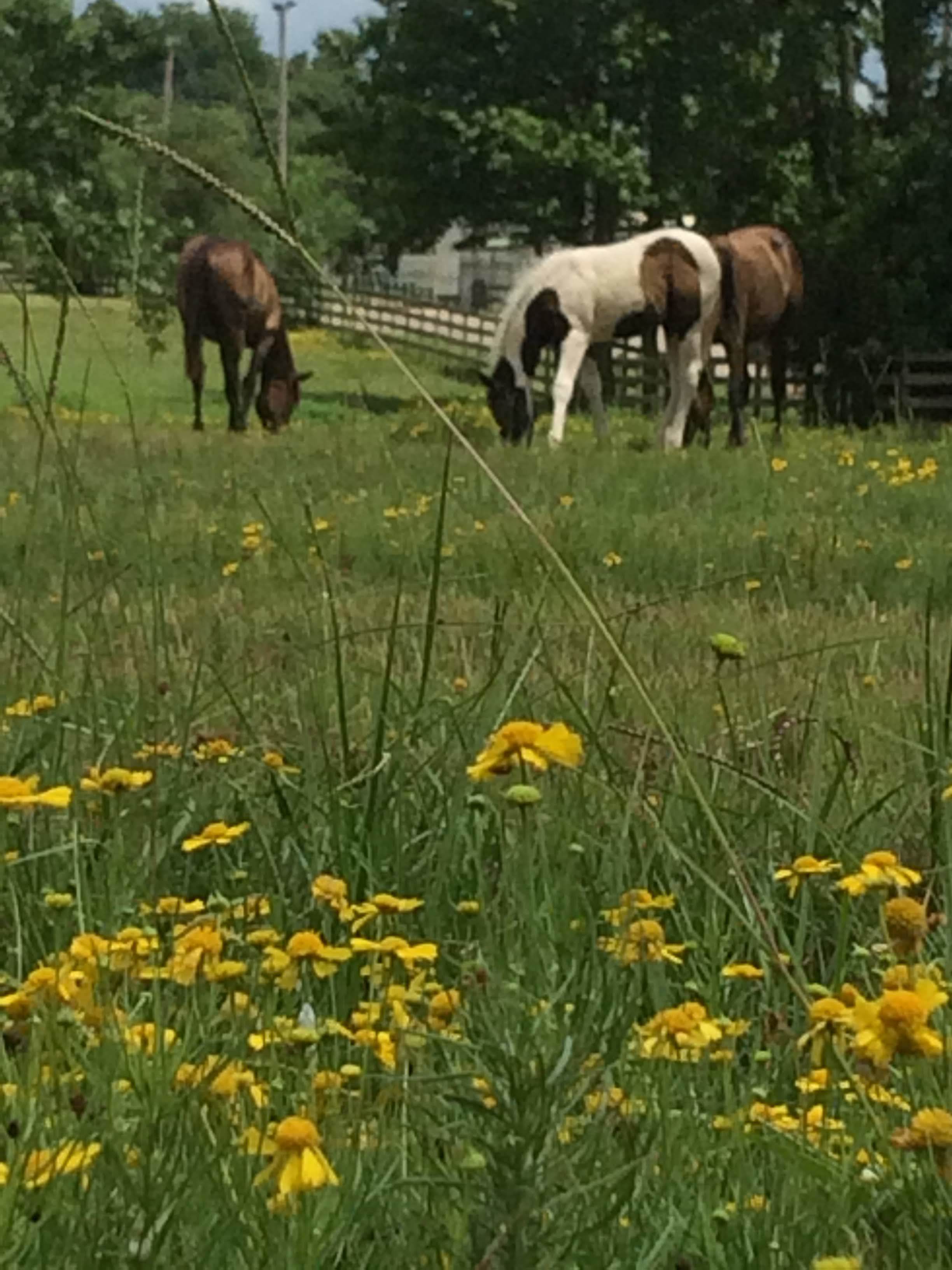 Horses grazing near where we stopped for lunch
Heading out of OK, now in Arkansas which is when we started chasing Hurricane Barry so we stayed in a hotel. More pillows then we knew what to do with!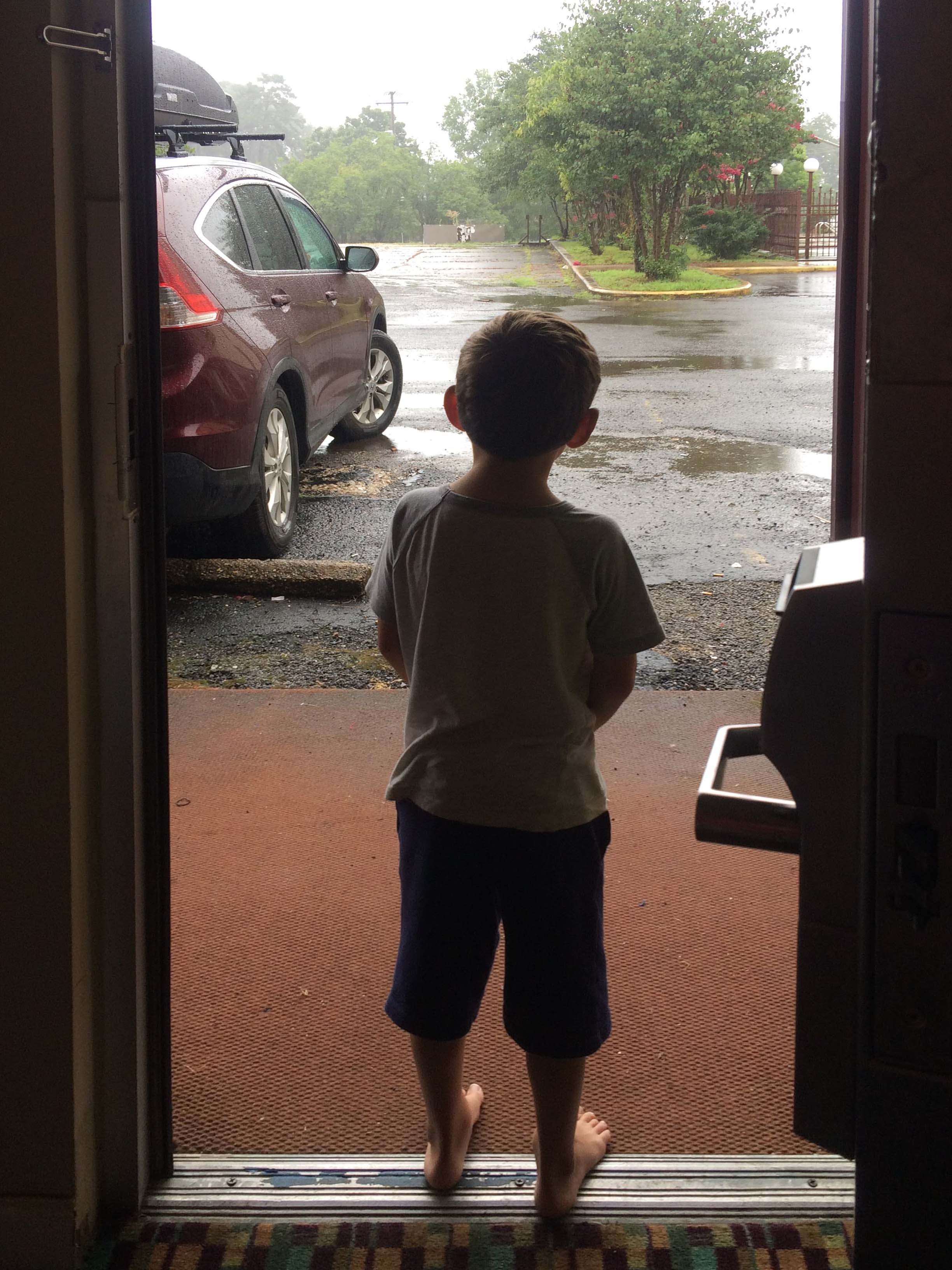 Sad day with lot of rain - so we head off to hike INSIDE the earth today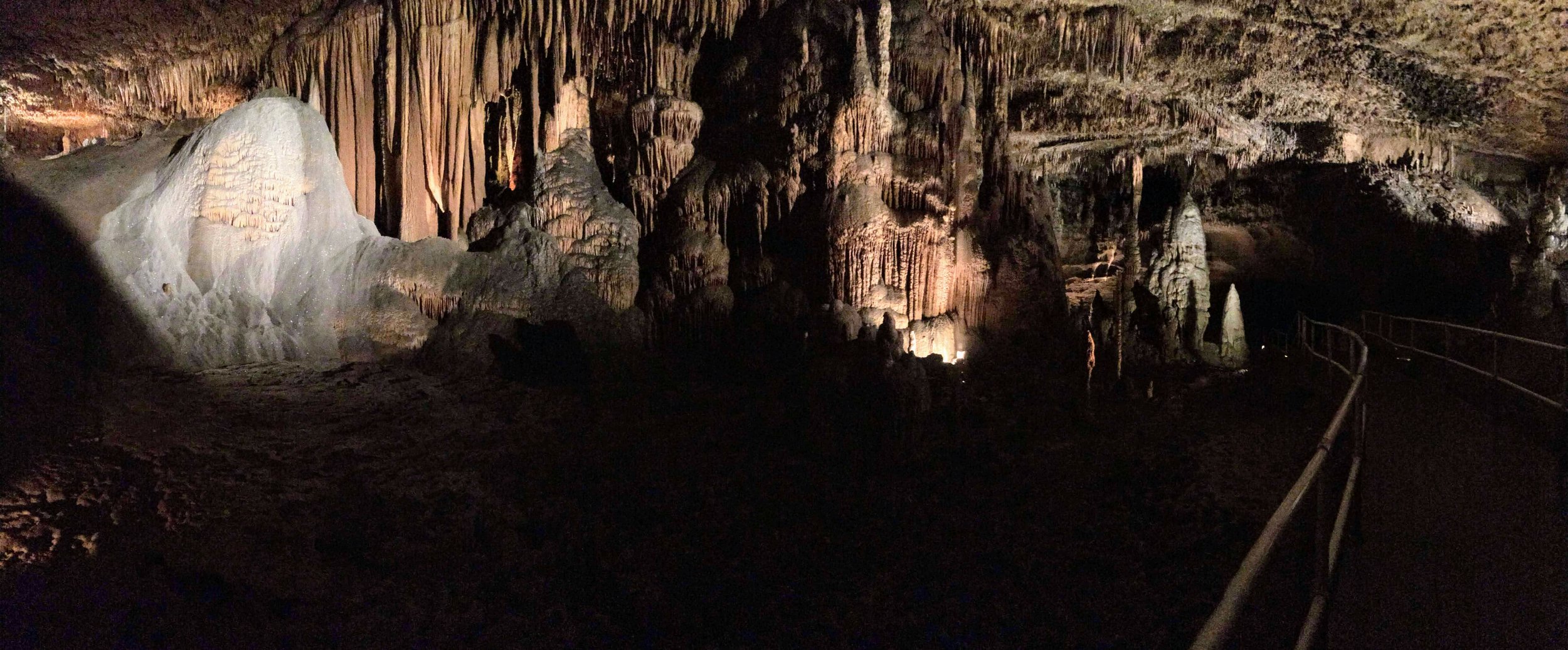 Blanchard Springs, Arkansas which has the only cavers run by a state forestry service. It was so amazing we came for another tour of another part the next day.
Waiting for our next caverns hike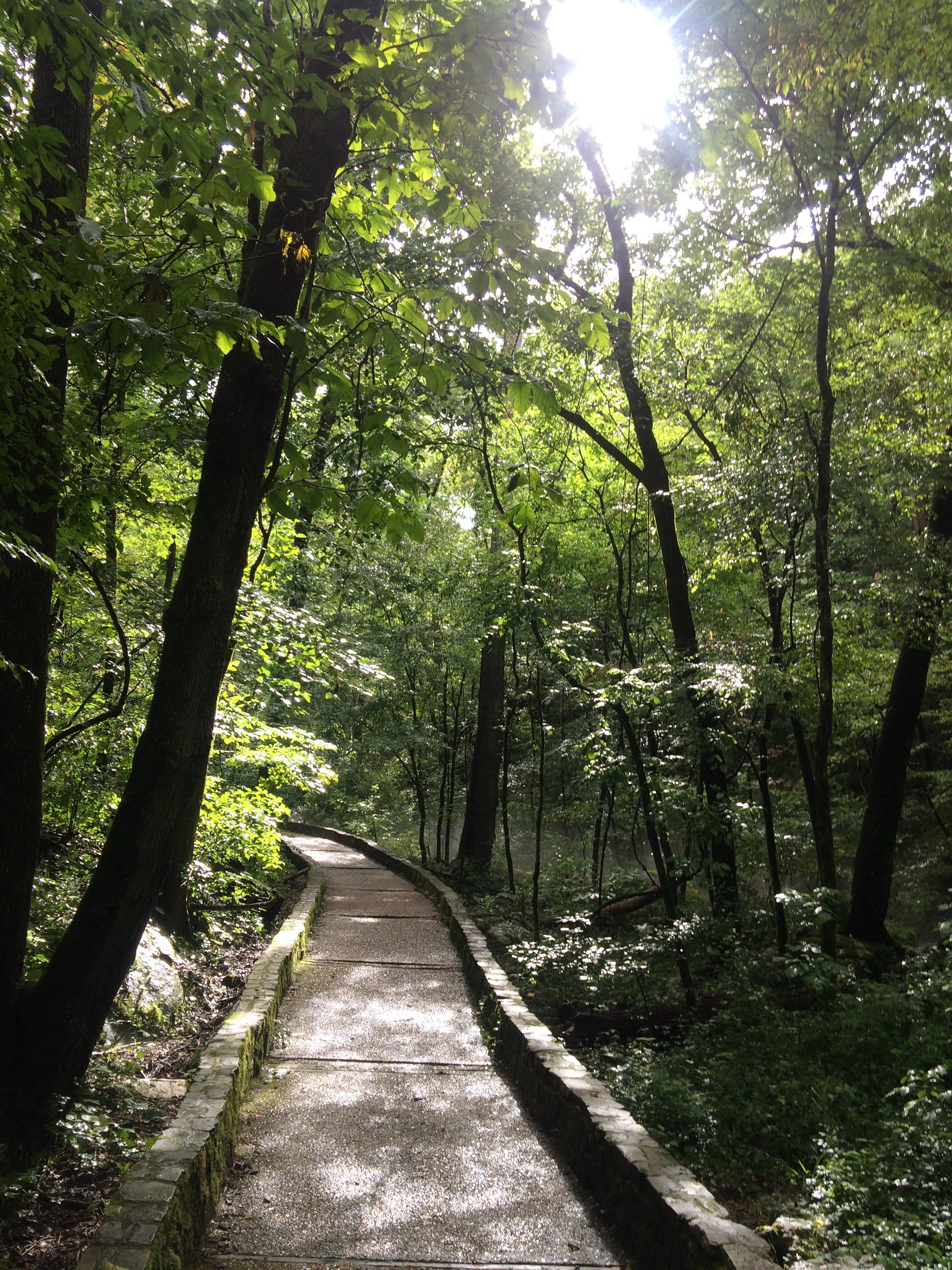 This hiking trail led to the springs that made those underground caverns
I love this place, Reelfoot State park in Tennessee. I have camped there years ago and was excited to show Ollie these cool trees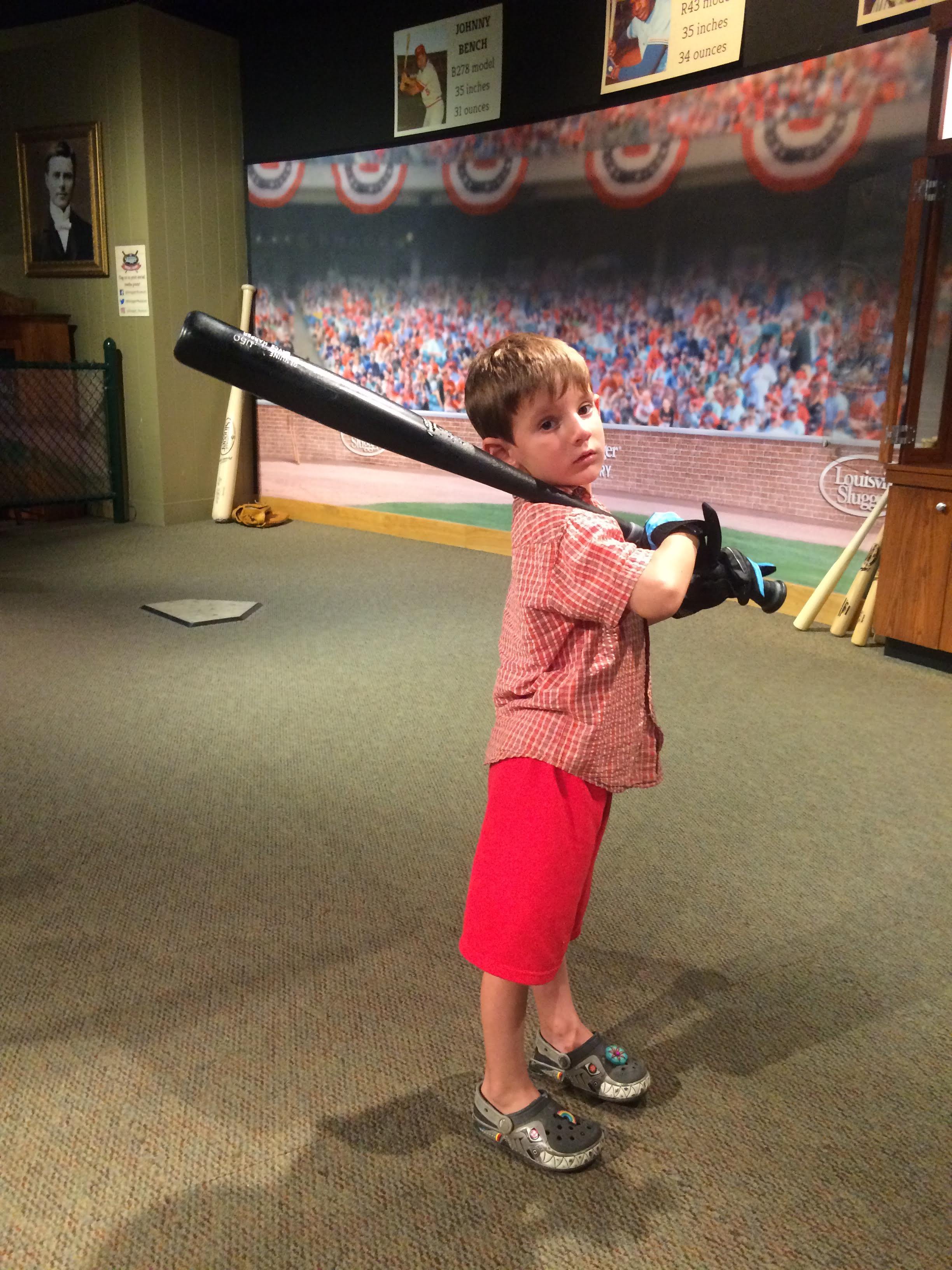 Then off to Louisville, Kentucky to the Slugger factory and tour.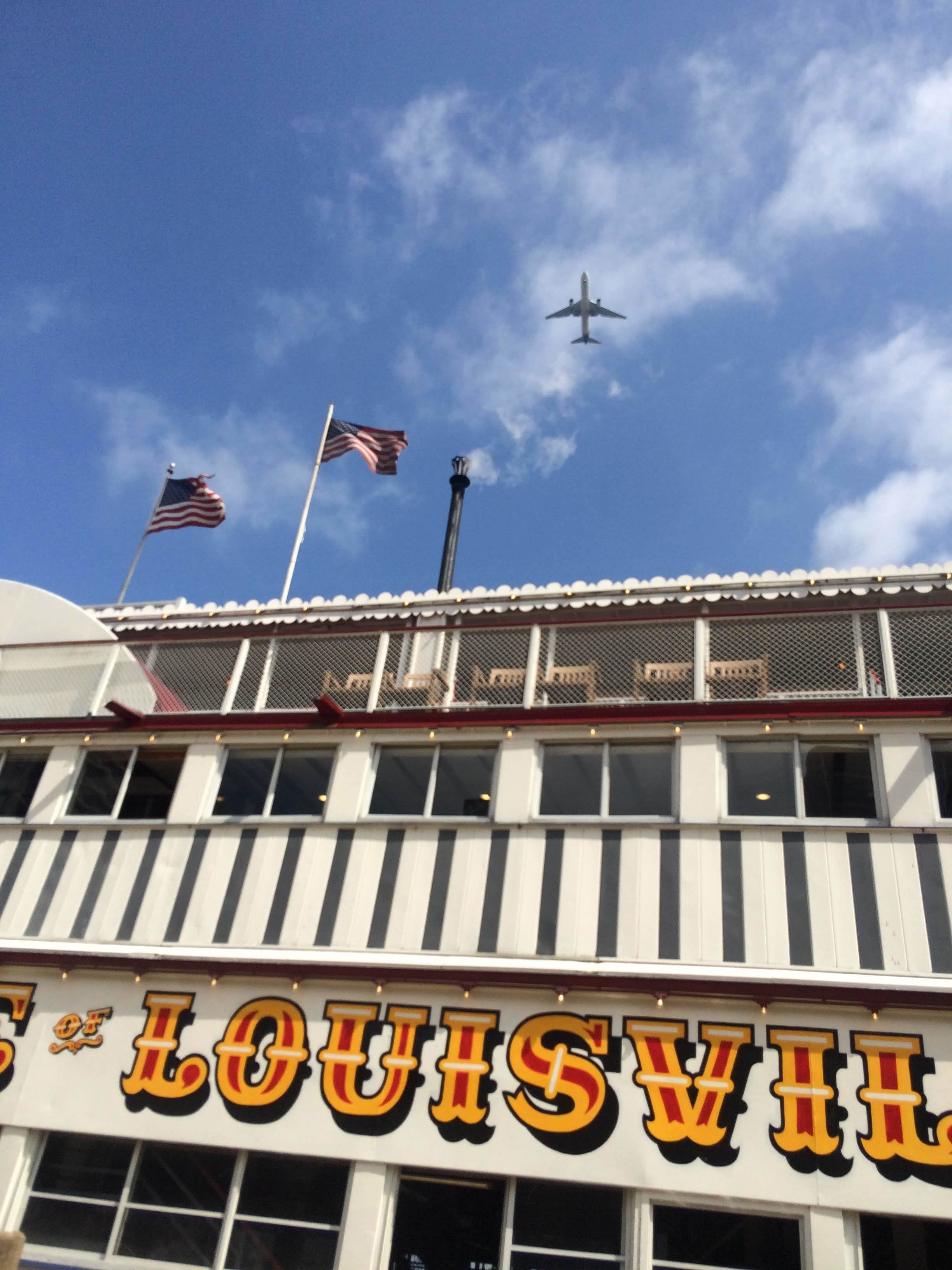 We had a sightseeing tour on the Belle of Louisville, the only paddle wheel boat in operation in the US where the wheel really powers the boat. All other wheels are just a decoration. We were in the plane flight path so I tried to get the timing just right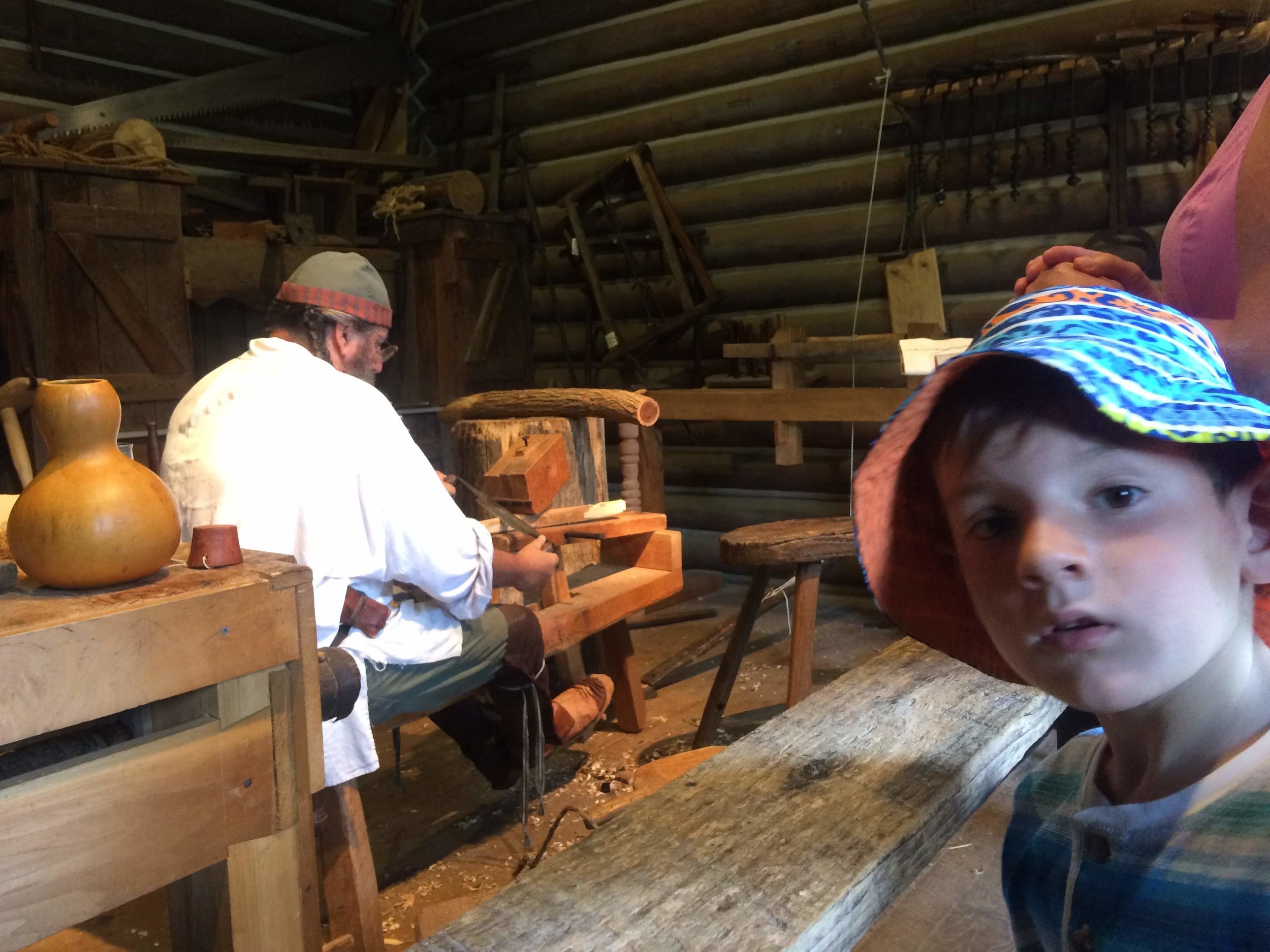 Little history lesson when we visited Ft Boonesboro in Kentucky heading to a friends place in eastern part of the state.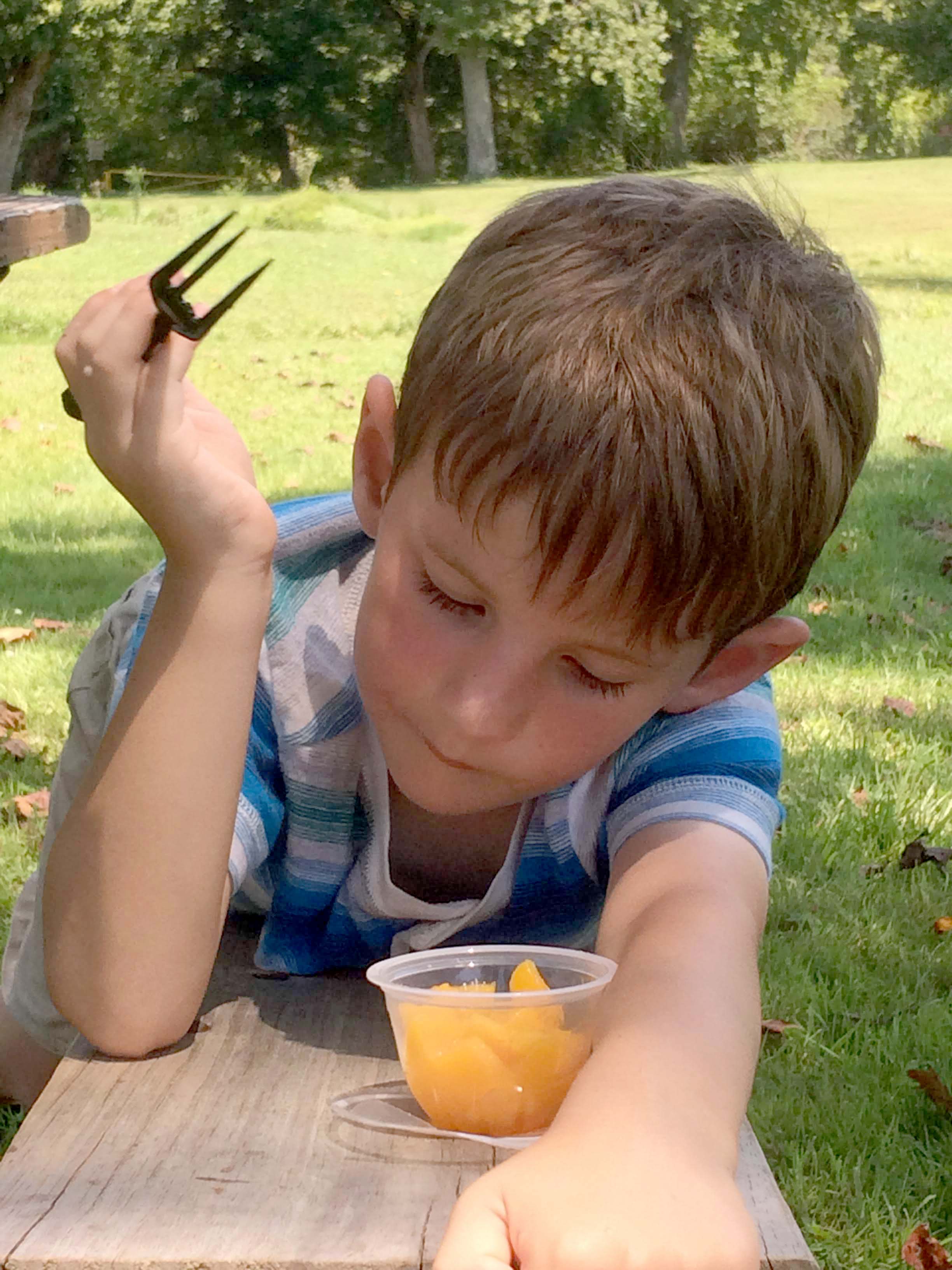 Story here - this silly fork was something we used for almost all our lunch-making as a spreader. No idea why I never just got a knife but then it became a tradition. When a prong broke off, I still didn't have the heart to toss it.
My photographer friend Dean Hill in KY had his father's tobacco barn destroyed in a tornado that ran through West Liberty. He scrambled across the mountainside gathering up pieces and built himself a studio out of the remains.
So cool! A minor league ball game between the West Virginia Power and Delmarva Shorebirds. Foul balls dropping everywhere.
This guy with the toaster and bread, was making toast then tossing them into the crowd chanting "Power up the Toaster! Power up the Toaster!" Cracked us up.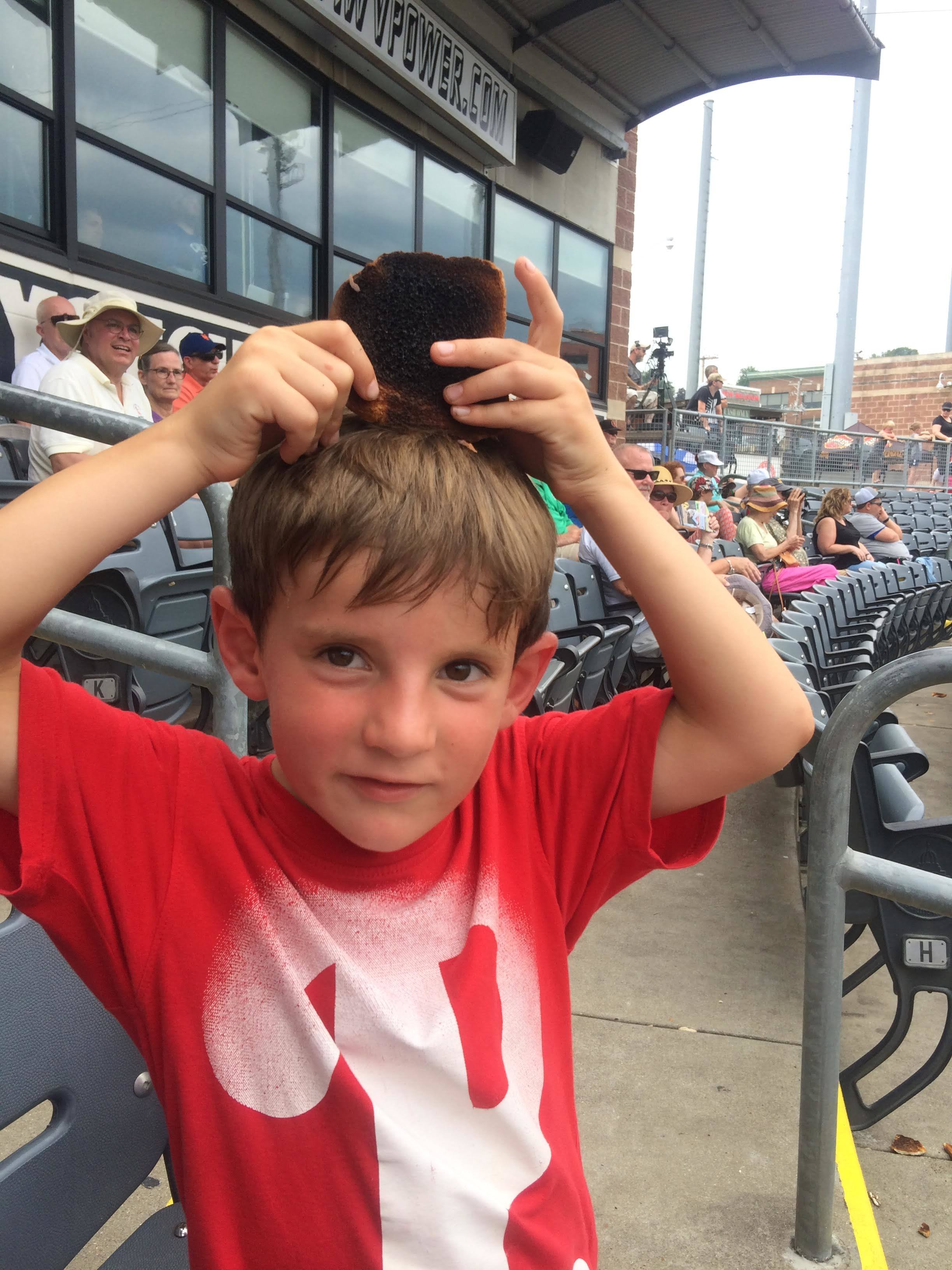 So I had to get a photo with the toast Ollie caught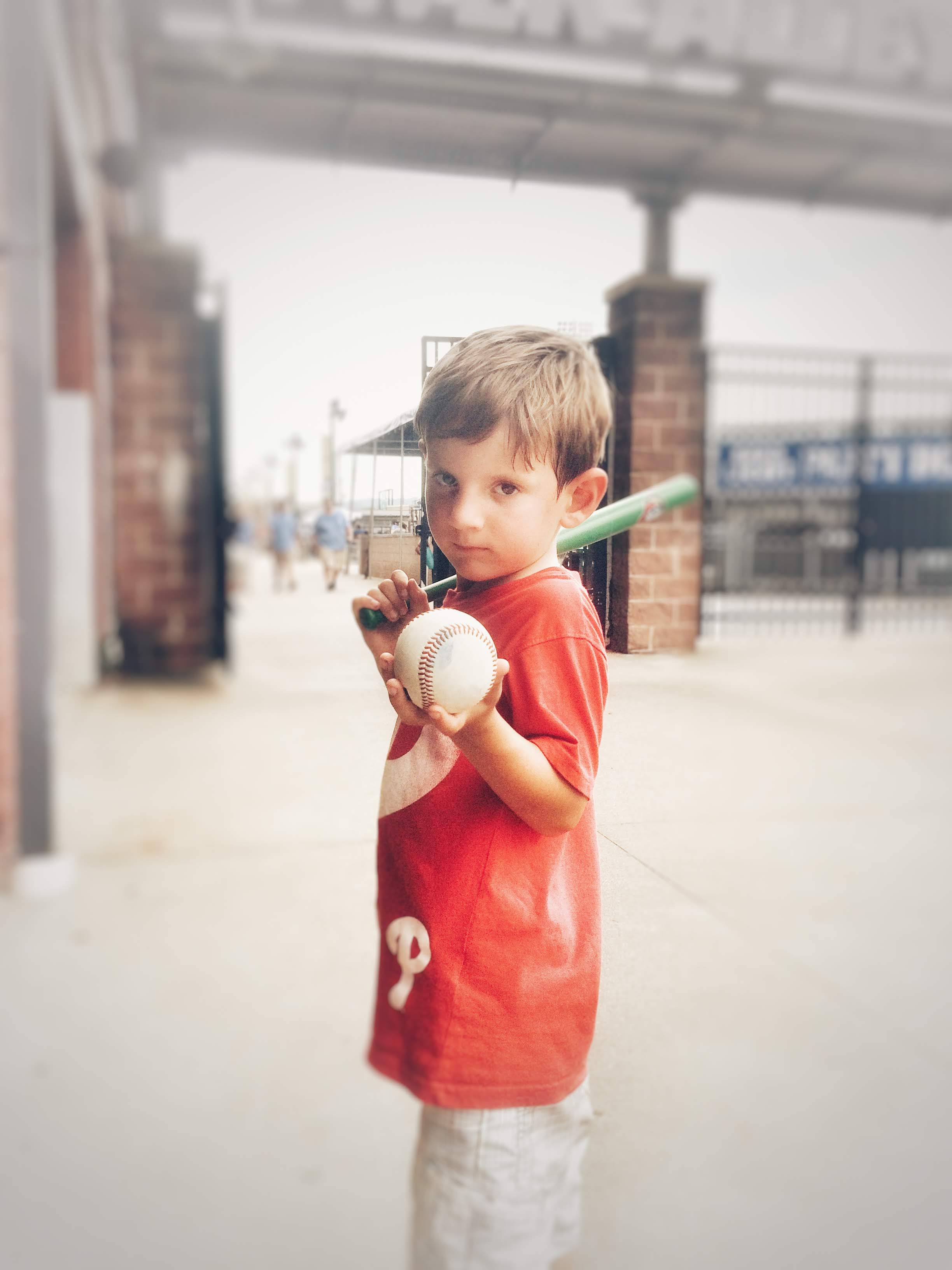 Ollie got a foul ball and a mini bat which was for dad (since we each got one that they gave away while at the Louisville Slugger tour)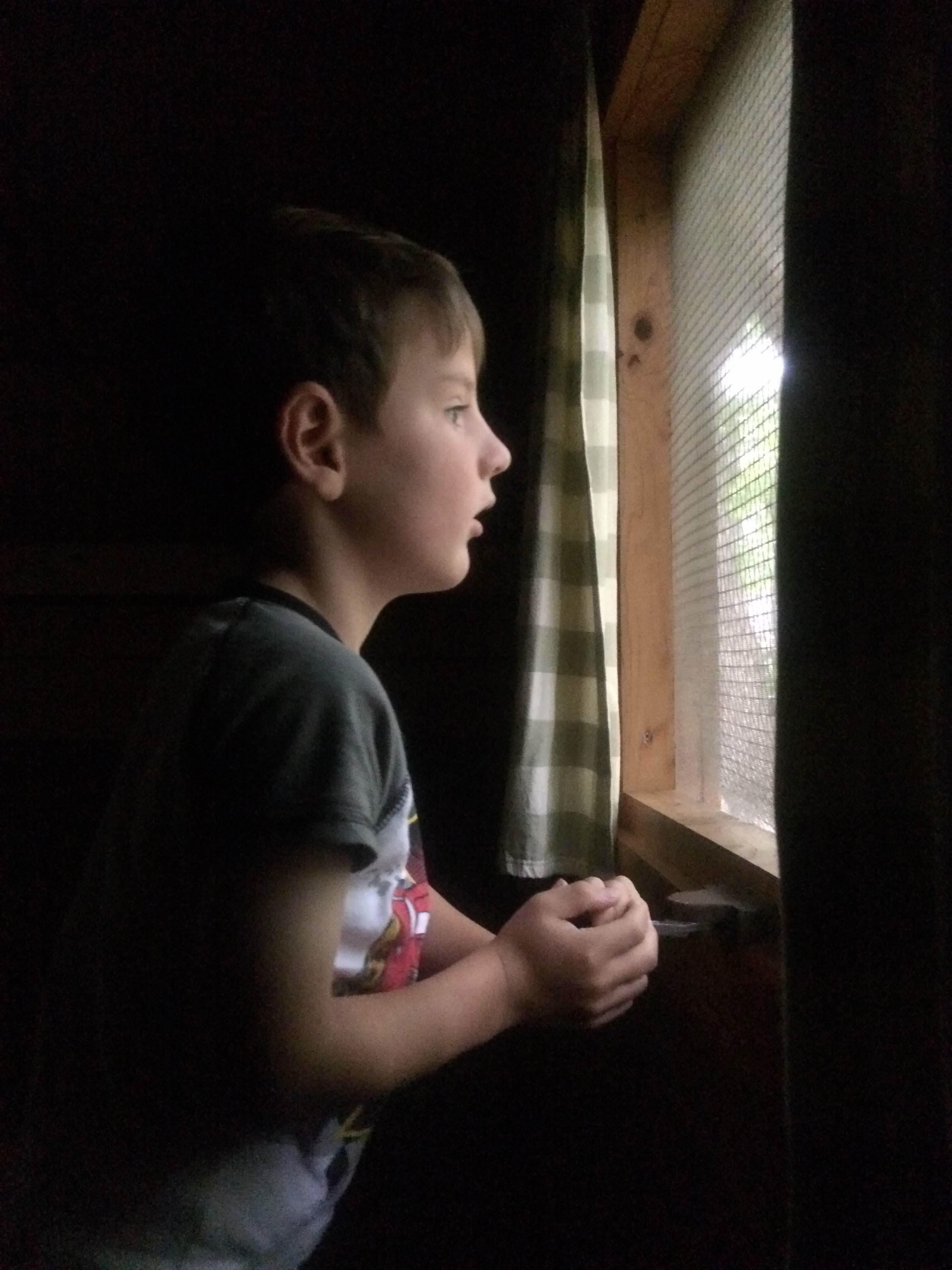 With a 100% chance of rain I treated us to a night in a cabin at Rocky Gap State Park in Maryland which was great. We swam in the rain anyway but it was nice to be dry later,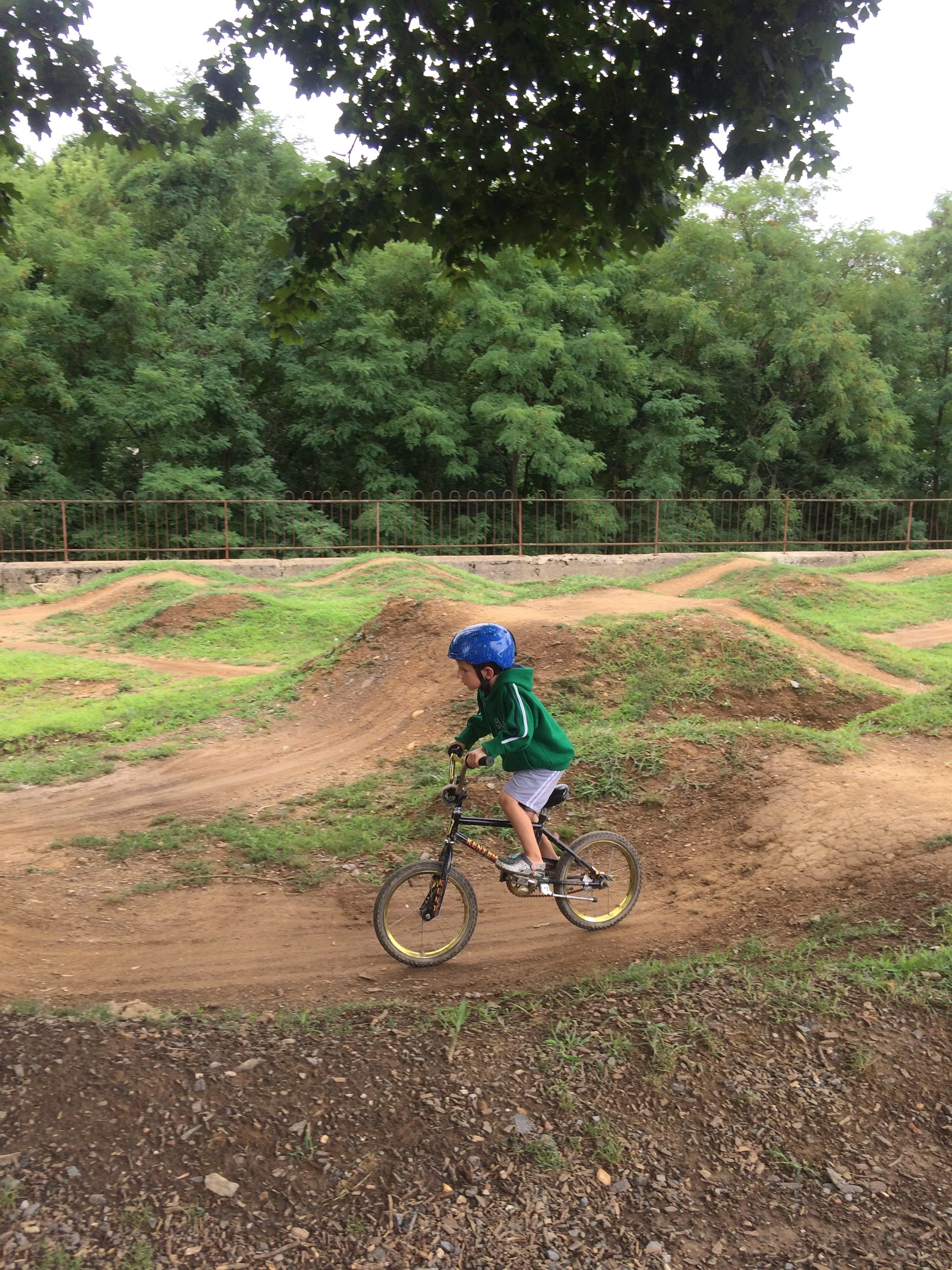 Something Ollie has been waiting for this whole trip - a pump park I found in Chambersburg PA. It was sooo cool to see him dive into this park.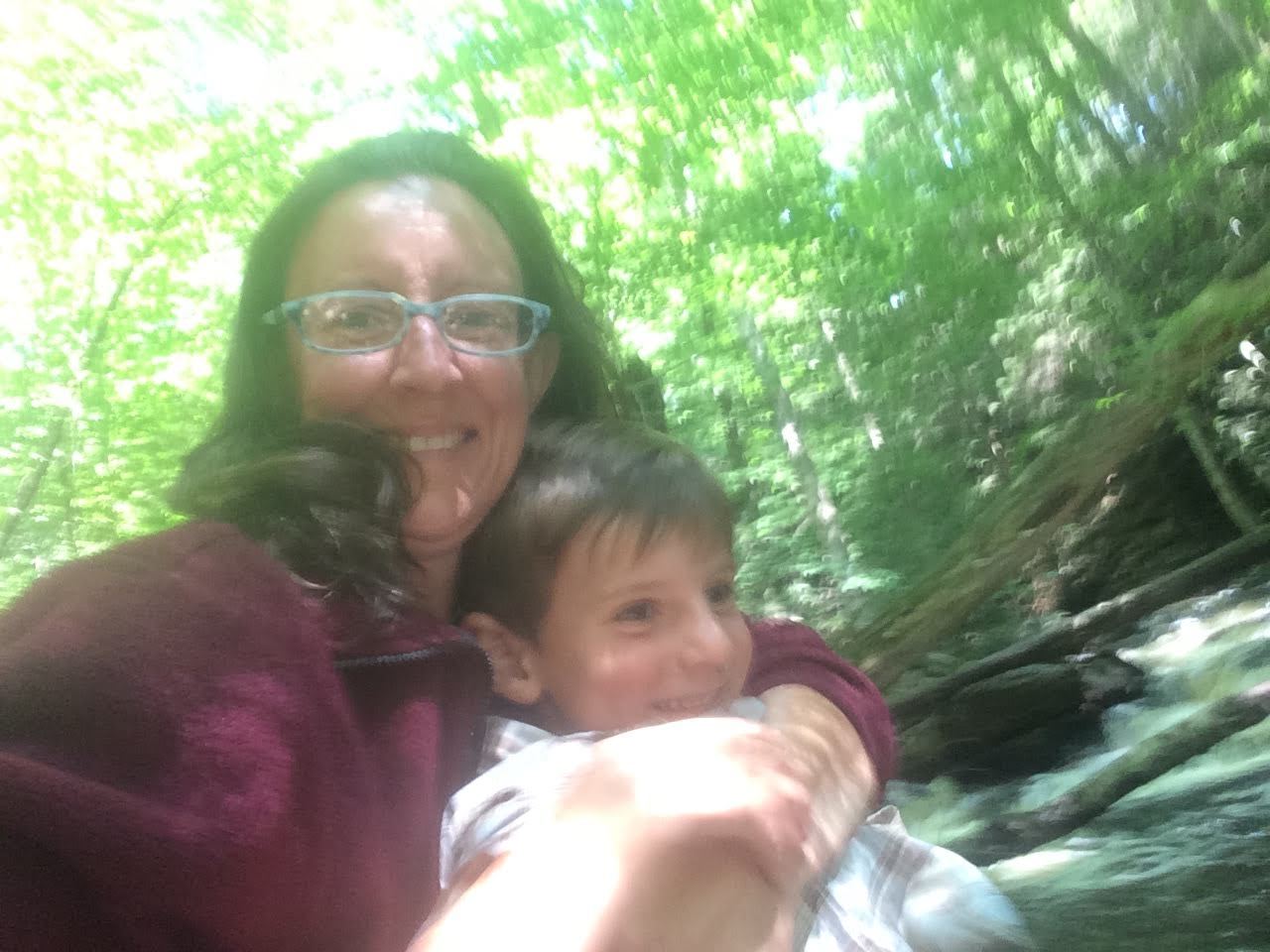 Another place I LOVE is Ricketts Glen State Park in PA. Some amazing hiking with tons of water falls. This was Ollie's second favorite part of the trip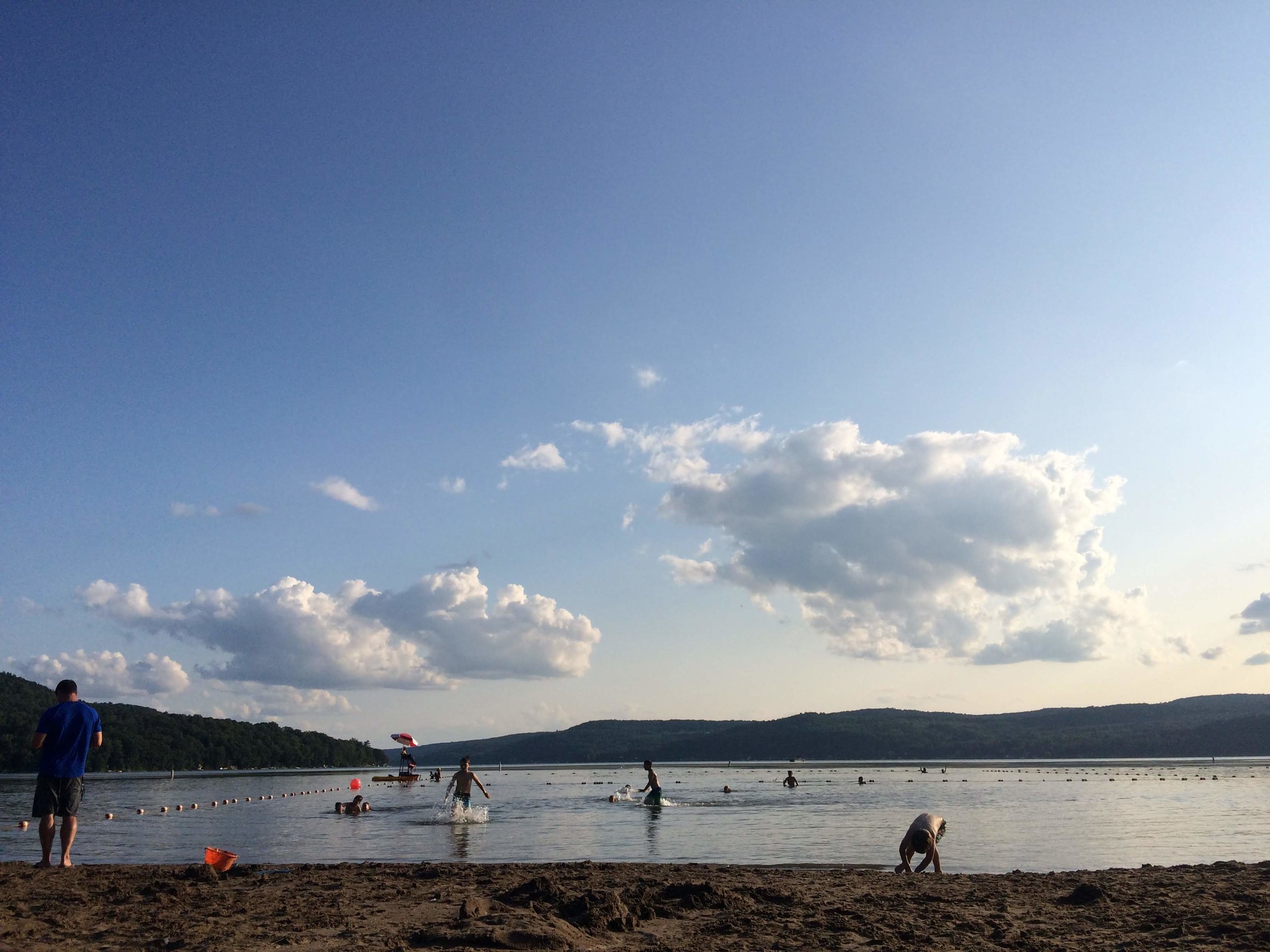 Our last camping spot, Glimmerglass State Park in Ny - kinda sad. But I think we are both done, ready to get home!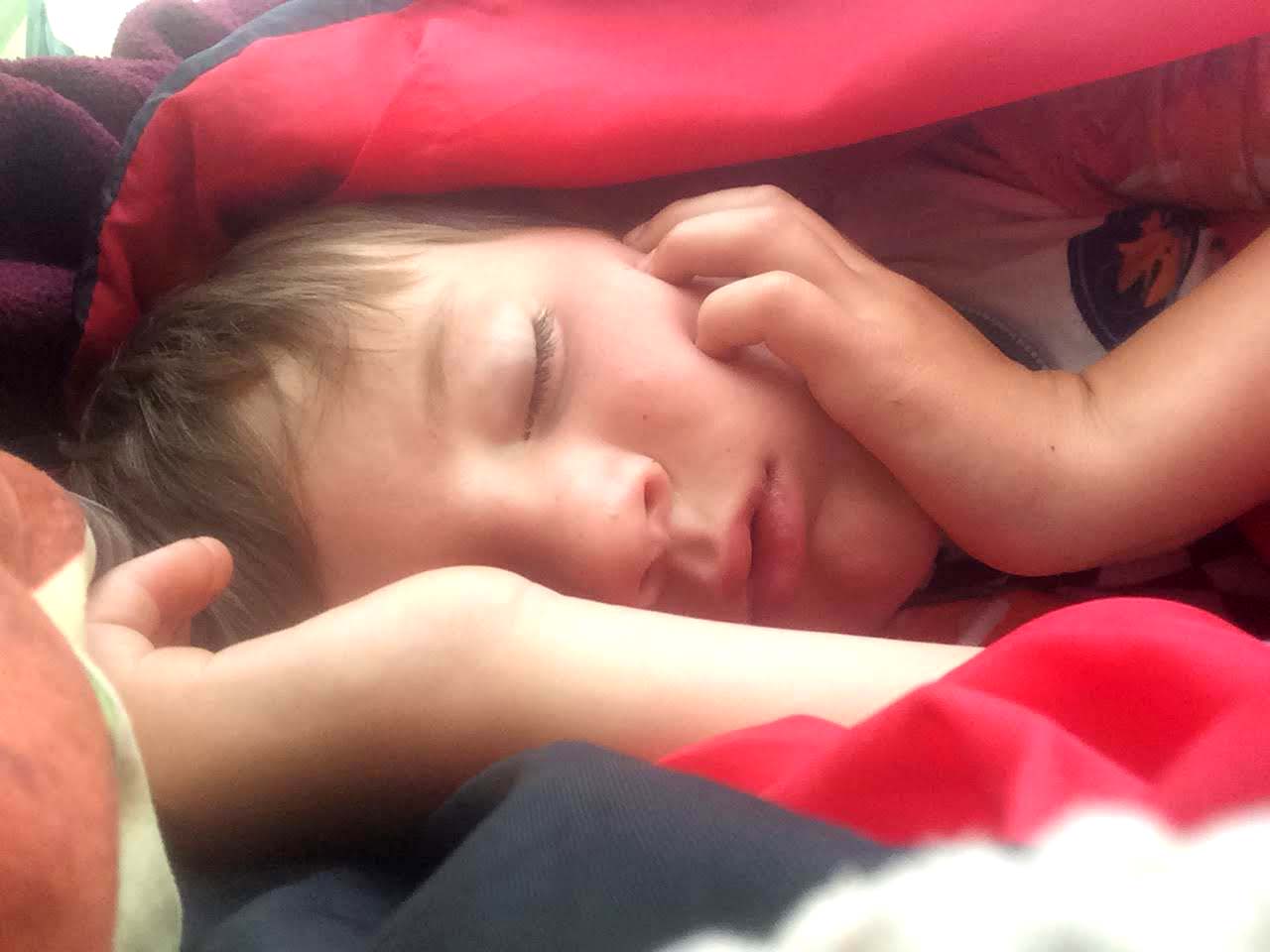 Sleeping in on our last morning. Nothing cuter